Ethical Lapses in the Nigerian Higher Education System
Obiora F. Ike's Ethics of Education and the Nigerian Context
Keywords:
higher education, education system in Nigeria, education management, private vs. public universities in Africa
Abstract
This study uses secondary data to examine Obiora's education ethics vis-à-vis the higher education system in Nigeria. The discourse centered on government educational agencies such as the National Universities Commission (NUC); National Board for Technical Education (NBTE); National Commis-sion for Colleges of Education (NCCE) and Tertiary Education Trust Fund (TETFund) and their roles in the management of the educational system in Nigeria. The study further highlights the ethical lapses in the tertiary education system in Nigeria. The researcher suggests that, the government should encourage private ownership of tertiary institutions, while the government through its agencies supervises them.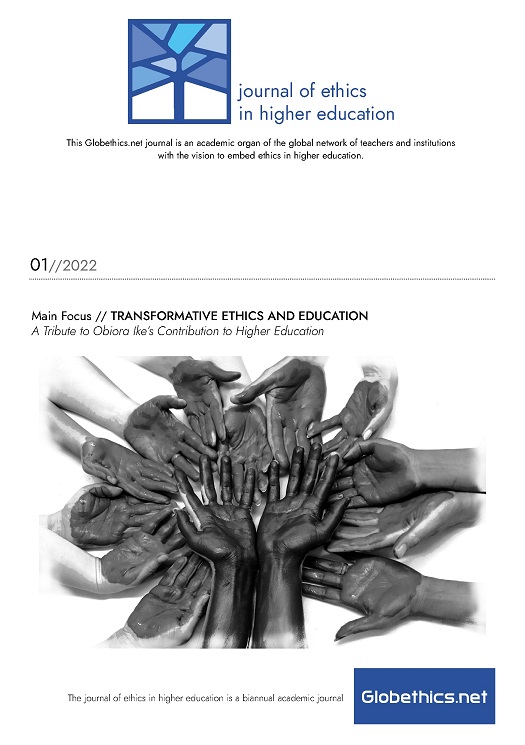 Downloads
How to Cite
Ngonso, B. F. (2022). Ethical Lapses in the Nigerian Higher Education System: Obiora F. Ike's Ethics of Education and the Nigerian Context. Journal of Ethics in Higher Education, (1), 53–73. https://doi.org/10.26034/fr.jehe.2022.3376
License
Journal articles of Globethics Publications are published under the open Creative Commons License Attribution-NonCommercial-ShareAlike 4.0 International (CC BY-NC-SA 4.0), which guarantees the rights of licensor and allows free use and re-use to the licensees (the readers) who can: 1) Share — copy and redistribute the material in any medium or format 2) Adapt — remix, transform, and build upon the material provided appropriate credit is given and similar license is used in case of such adaptations. Content should not be used for commercial purposes. Each article (the version of record) can be deposited by the author on their academic institutional repository or personal author webpage.