Empowering Partnership
Ethics in Context
Abstract
This article aims to offer a general view of the work and the progress the Partnership and promotions team, placed at the core of the Globethics.net Foundation activities, has reached so far. Starting with a general view on its tasks and duties, Christine Housel opens the floor for the regional officers of the department to offer a personalized view and opinion on the relevant and pressing matters Globethics.net has to focus, or has focused on, locally. During this exposition, we will hear about the Partnership and promotion team's commitment with students at all levels, its work to foster and nurture ethics in higher education on institutions worldwide, and the diversity and plurality held in itself, a clear embodiment of the pluralistic vocation of Globethics.net.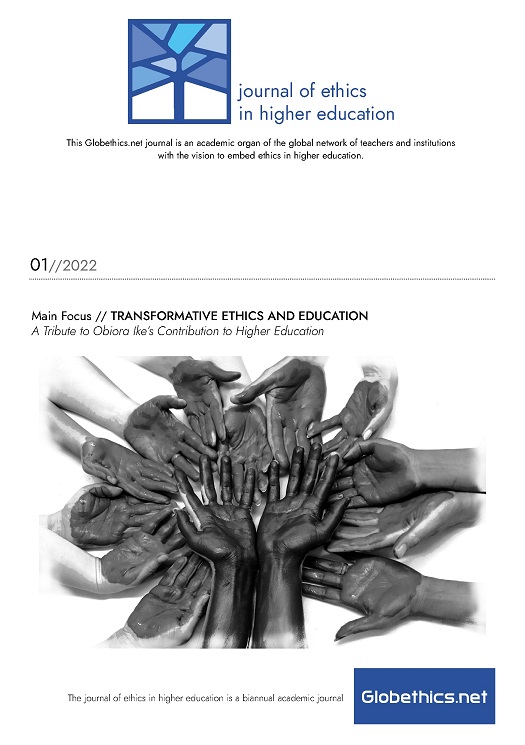 Downloads
How to Cite
Housel, C. (2022). Empowering Partnership: Ethics in Context. Journal of Ethics in Higher Education, (1), 245–270. https://doi.org/10.26034/fr.jehe.2022.3392
License
Journal articles of Globethics Publications are published under the open Creative Commons License Attribution-NonCommercial-ShareAlike 4.0 International (CC BY-NC-SA 4.0), which guarantees the rights of licensor and allows free use and re-use to the licensees (the readers) who can: 1) Share — copy and redistribute the material in any medium or format 2) Adapt — remix, transform, and build upon the material provided appropriate credit is given and similar license is used in case of such adaptations. Content should not be used for commercial purposes. Each article (the version of record) can be deposited by the author on their academic institutional repository or personal author webpage.