Obiora Ike and the Challenge of Development in Africa
Keywords:
African tradition, African philosophy, Development
Abstract
African philosophers such as Olusegun Oladipo, Lansana Kieta, Kwama Nkrumah and Kanu Ikechukwu proposed to revisit the semantic of the word "development". From their viewpoint, instead of seeing economic growth as the DNA of development, we should actualize the notion as rather aiming at the universalities of cultures, which could ensure progress and development. Further aspects such as a) the worldview of the Bantu, b) the distribution of resources in large national giant nations as Nigeria, and c) faith-based organization and development with Obiora Ike, justify a closer reading of the concept. It shows that people-oriented development is better adapted to Africa than abstract concepts, which may not include strong reference to the African traditions and belief systems. Sustainable and integrative development should include all major faith groups, which are all part of development, understood as a social and economic investment with social responsibility and faith.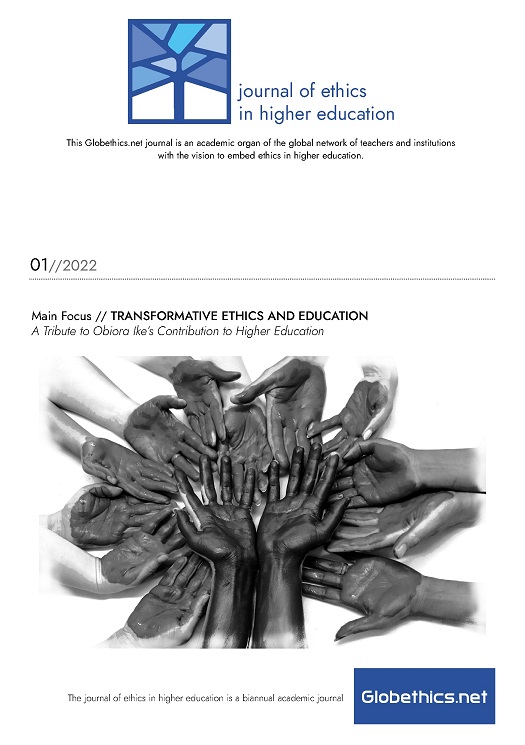 Downloads
How to Cite
Ogbenika, G. E. (2022). Obiora Ike and the Challenge of Development in Africa. Journal of Ethics in Higher Education, (1), 13–34. https://doi.org/10.26034/fr.jehe.2022.3374
License
Journal articles of Globethics Publications are published under the open Creative Commons License Attribution-NonCommercial-ShareAlike 4.0 International (CC BY-NC-SA 4.0), which guarantees the rights of licensor and allows free use and re-use to the licensees (the readers) who can: 1) Share — copy and redistribute the material in any medium or format 2) Adapt — remix, transform, and build upon the material provided appropriate credit is given and similar license is used in case of such adaptations. Content should not be used for commercial purposes. Each article (the version of record) can be deposited by the author on their academic institutional repository or personal author webpage.