About the Journal
The Journal of Ethics in Higher Education is a biannual academic journal published by Globethics.net Foundation based in Geneva (Switzerland).
Director of Globethics.net: Prof. Dr Obiora Ike, Executive Director of Globethics.net in Geneva and Professor of Ethics at the Godfrey Okoye University Enugu/Nigeria.

You can order print copies of the whole first inaugural Issue 1(2022) from: publications@globethics.net, at a price of 15CHF (+ shipping).

Issue 2(2023) Values and Power Dynamics of Languages in Higher Education is planned for Feb/March. This Issue is on invitation but it is also open to public submissions. The whole Issue will be carefully peer reviewed. The list of the peers who will be the reviewers of each contribution will be made available by Feb. in a transparent manner (there will not be a double blind process). 

The Journal of Ethics in Higher Education as Globethics.net books Series and Globethics.net Library, are part of Globethics.net Academy and resources.
Current Issue
No. 1 (2022): Transformative Ethics and Education: A Tribute to Obiora Ike's Contributions to Ethics in Higher Education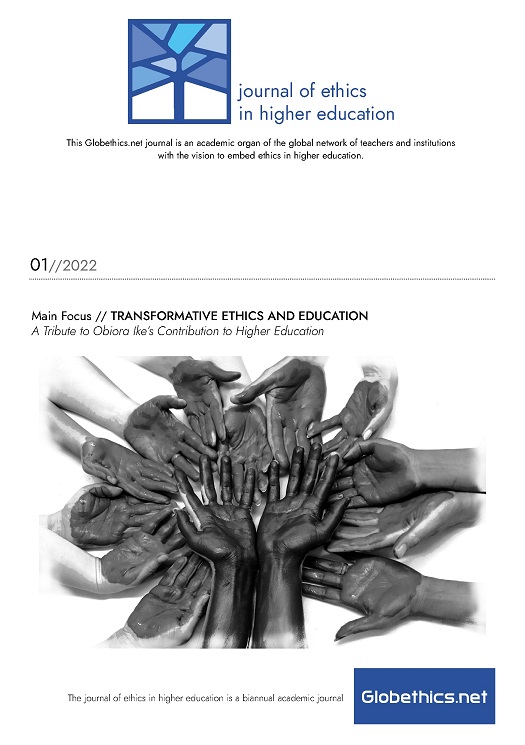 The first issue is dedicated to Obiora Ike's ideals in ethics and education, and honoring his contributions to these fields in theory and praxis. The articles in this special issue show a broad range of scholarly engagement with the theme. On the one hand, they demonstrate how transformative ethics and education are intertwined with theological and philosophical rationales, and on the other hand how an integral and whole-person development paradigm emerges from some concrete models of practices, exploring essential facets of integrity and quality education.
View All Issues